Lifting Spirits at MGR University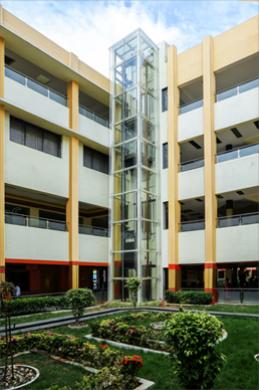 Lifting Spirits at MGR University
At Cooper Elevators, we try to stay ahead of the latest design trends at the same time, stay true to our design standards. With our range of bespoke elevators, we aim to gain customer satisfaction to the best of our ability before, during and after the manufacture and sales of our product.
Our Machine Room Less(MRL) passenger elevator is rapidly gaining popularity when there is an increased focus on design and aesthetics by architects. The MRL elevators offer several benefits in comparison to the traditional elevators, the most important being space, smooth and quiet operation, and energy savings. These were many of the factors that influenced MGR University to get in touch with us for their elevator needs.
Journeying through MGR University
Founded in 1988, Dr. M.G.R. Educational and Research Institute University has established itself as a premier institution that groomsmen and women to excel in Engineering, Medical, Dental, and Humanities. Recognizing the challenges faced by the students of today, this Institute was started with a vision of providing a better foothold to face the challenges.
Enhancing the Ambience & Design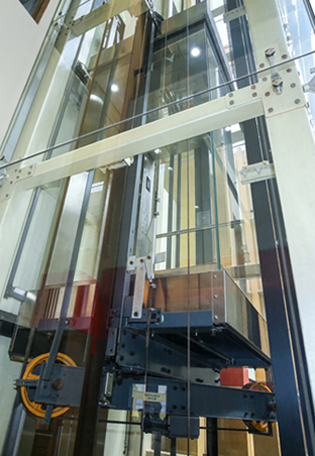 Cooper Elevators vows to create a lasting impression in the minds of those who travel in it. Just as the prestigious institution is committed to helping its students scale new heights, Cooper helps them conquer heights inside the building, by providing them with a pleasing navigation experience. Cooper has successfully added value to the infrastructure by installing advanced Machine Room Less Elevators (MRL), saving a lot of space.
Lifts without machine room are one of the most applauded improvements in the elevator manufacturing sector. The elevator installation inside this institution is a visual treat, with the glass cladding to add to the elegant look and also leave the user with awe inspired experience.
Testimonial
"Cooper Elevators was very prompt in executing lift erection work in time and especially their after sales service is excellent. Their quality of materials used in the erection of lift is up to norms and standards..."
-Mr.Kaliaperumal, Director – Electrical Maintenance Department, MGR University
Our Bespoke MRL lifts which ooze luxury and comfort spells unlimited design flexibility which can be installed in close harmony with your building's architecture In MRL lifts, the machine is fixed on the guide rails and all static and dynamic loads are transferred to the pitprovides. It provides better aesthetics and being Gearless, no oil is required for maintenance. The green technology with the utmost energy efficiency is a new innovation as it caters to panoramic appeal and utility in limited spaces. Hotels, Hospitals, Malls, and Mid-rise buildings, and Villa owners usually prefer the MRL passenger lifts.
Contact us to know more here:
www.cooperelevators.com