Lift maintenance done regularly provides optimum efficiency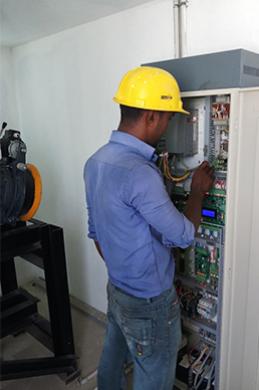 Malfunctioning vertical transportation systems pose an inconvenience like no other. When your building's elevator equipment breakdown, time of the essence and responsive service team can make all the difference. If you are in the process of choosing the right elevator repair company for you, consider their overall approach to service. Are they timely? Are they accommodating ? Are they affordable? Can you count on them to be available for any immediate elevator repair needs
Cooper elevator has mastered convenience and customer service in this regard. Our hand- selected team of technicians is dedicated to providing prompt and comprehensive maintenance just in time, every time.
Fast and reliable elevator maintenance :
As a long-standing elevator maintenance company, Cooper elevator is proud to nature an extensive network of manufacturers and services. Additionally, this network grant us access to the latest development. Without delay on spare parts or lapse in technical knowledge. Cooper elevator technicians can perform repair services in a way that priorities efficiency and reduces down time for customers.​​​​​​​
Our elevators repair offers emergency service 24 hours a day:
Equipment can fail at anytime and when it does, are tasked with finding immediate resolutions on their tenants behalf. Cooper elevator supports our customers with a quick and convenient 24 hours service line count on our elevator repair technicians to show up to your site with a sense of immediacy , compassion and a careful regard for your equipment's integrity, as well as your facility's budget.
Call Cooper elevator for exceptional elevator maintenance services:
Our team understands how essential functioning vertical transportation systems can be your buildings operations and image, allow cooper elevator to serve as your greatest ally in maintaining your elevator equipment today.