How much space do I need for a home elevator?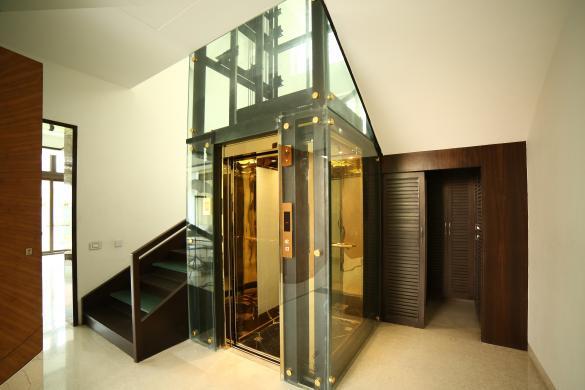 Home elevators provide help to those with restricted mobility, facilitate access between floors, and serve as a component of design to improve home beauty. Whether your home elevator is for fresh or existing building, in consultation with an architect, builder and elevator contractor, you should define the right place for the elevator.
Based on your demands, the room or footprint of a vertical lift in the construction is chosen. These demands generally fit into two categories; whether ambulant individuals will use the lift or whether wheelchair users will need the extra room.
The usual floor space on the platform or cabin should be at least 1100 mm x 1400 mm when considering wheelchair users (as required by Part M of the Building Regulations). Smaller sizes can be used, especially if the size of the wheelchair is known in private dwellings. The lift manufacturer will then have a shaft size suitable for that floor size of the lift.
Here are a few factors to consider as you look for the best location to install a home elevator:
Home Elevator Installation
The positioning of the elevator hoist-way and machine room should be incorporated into the design early in the process if you are constructing a new home. An elevator can be used as a focal point close to an entrance or in the middle of the house, built into a room or corridor, or positioned next to a current staircase. Consider information such as setup of the elevator as you identify the place.The structural and electrical requirements should be planned by your design team to correctly incorporate these components during construction. If you decide to plan your home to add an elevator at a later date, it is possible to incorporate stacked closets to generate a natural assembly space.
Retro-fitting an Elevator
Retrofitting a residential elevator introduces a distinct set of factors as the elevator will have to fit into your current home, typically with as little change as possible. A normal elevator needs about 25 square feet of room. The elevator drive scheme used may affect the plane of the ground.For example, if a machine room is required for the model, extra space is required. Most elevators involve about 8 inches of a pit. The shaft-way must also have appropriate structural assistance, which may need to be built during retrofitting.
Spaces are often readily adjusted around the stairway to accommodate a home elevator. Other well-functioning locations include closets, halls, dens and living spaces. If your garage is able to accommodate the installation of a hoist-way without affecting parking, garage facilities enable secure, fast access from the vehicle to the home's interior.
Contact Cooper Elevators, for more information on our home elevators.